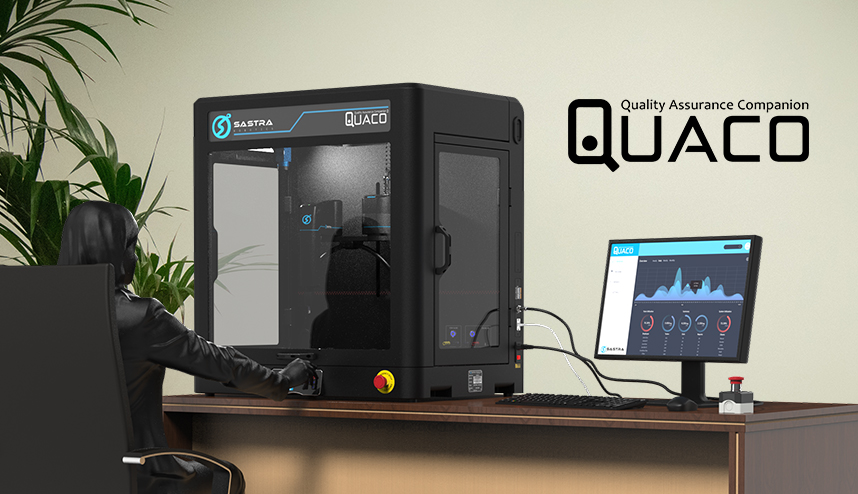 // EXPERIENCE. EXECUTION. EXCELLENCE.
OUR INNOVATIVE SOLUTIONS FOR YOU
From the data gathered from various OEM's/TIER-1's, one manual test engineer can execute approximately 60 moderately complex test cases/day using the conventional methods. Considering 240 working days in a year a manual test engineer can execute a maximum of 14,400 test cases a year.
Our flagship product QUACO can work 24×7, 365 days without any rest. So, a single QUACO system can execute at least 365,000 moderately complex test cases a year (assuming 1.5min per test case execution). The outcome is a 25x increase in productivity. Similarly, if we cross-check the speed of operation, Human: 8 hrs/day x 240 working days = 1920 hrs/Year. QUACO : 24hrs / day x 360 working days x 5X human speed = 43,200 equivalent manhours/Year. Ratio >20 times human productivity.
To support the following industry verticals Automotive(In-vehicle Infotainment & Cockpit clusters), Consumer Electronics (Smart Home Appliances), Banking/Fin-tech(ATM's & POS machines), Aviation(Inflight Entertainment & Cockpit clusters), Medical (Smart Surgical & Mission critical diagnostic devices), Smart Gadgets (Mobile phones, Tablets & Smart wearables), and Gaming (Gaming consoles, slot machine, etc). we have industry-specific packages & Application-specific packages.
For eg: If the customer is from an automotive cockpit development & testing needs a complete solution for functionality testing then Quaco Pro would be the right solution – (calculating based on their RFP). If the same customer needs a test farm including all the capability & cloud integration, then QUACO hybrid would be the right solution, If the same customer needs a performance evaluation rather than functionality testing of touch elements we will suggest additional accessories to close loop the output with our software suite (this is typically I2C or SPI or UART information feedback for processing and logging